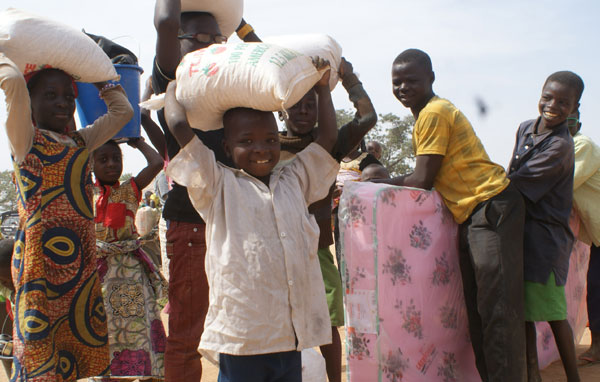 The Kamaru Chawai community in Kauru Local Government Area of the Southern part of Kaduna state was attacked at dusk on 13 November 2016. Forty-three people were brutally murdered in cold blood, several others were wounded and many houses were destroyed.
ADI visited the villages of the Kamaru Chawai district of the Chawai Chiefdom of Southern Kaduna in December with relief materials such as food stuffs and mattresses.
While the packaging of the items to be distributed was ongoing, sporadic gunshots were heard from some of the neighbouring villages – the suspects being Fulani herdsmen who carried out the attack of 13 November 2016 on the community.
Some of the villagers who came to receive their own relief materials had to run back to their homes to ensure the safety of their children against the extremists in case they raided a second time.
The relief packages contained a small sized bag of rice, a bag of beans, a mattress, blankets, beverages, a carton of noodles, salt, sugar, detergents, a bucket, a mosquito net, toiletries, cloths and vegetable oil.
The villagers showed enthusiasm towards the generous contribution to their community.
At the end of the distribution, the people expressed how grateful they were to ADI for their kindness.
Interviews with some of the recipients was granted and they were all happy to receive the gifts:
Laki
I am very delighted that you people came to our rescue even at the time when we were losing hope.
Sunny
This is the first time we experienced a good heart like this by coming to visit us at the time of our needs. I am short of words but I must say thank you for the good works.